Industry Award 2011 FEPORID® 388 wins German Industry Award 2011
Düsseldorf/Karlsruhe, 13. April 2011
A product of DFE Chemie GmbH has received the "Industry Award 2011" as conferred by the Huber Verlag, a German publishing house. Known as FEPORID® 388, the product has been declared the winner in the supplier category. In practice, it is an inhibitor deployed as an additive during the steel pickling process to improve the surface quality of the metal, leading to further advantages for end users.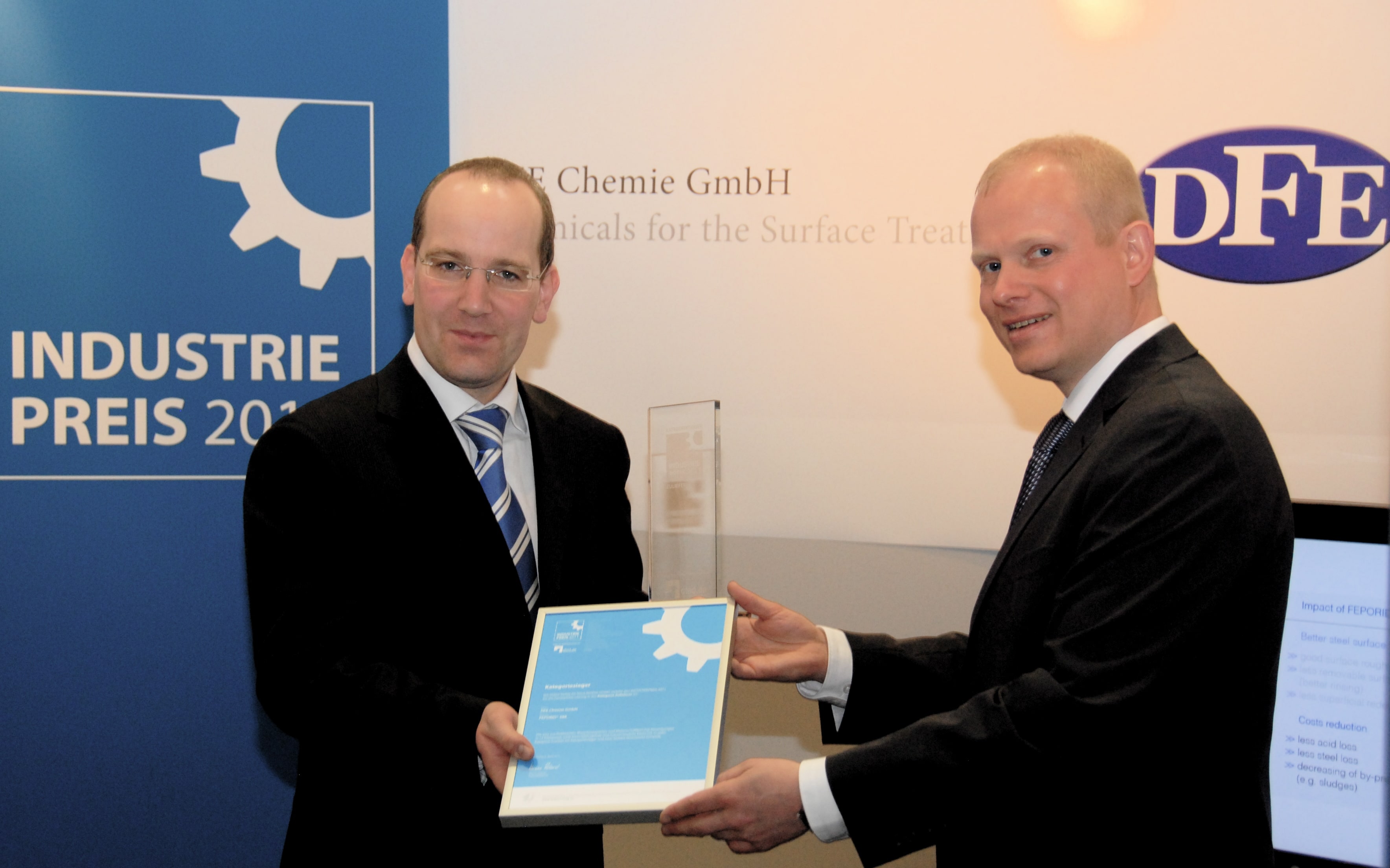 Winner in the supplier category: The DFE Chemie GmbH with its FEPORID® 388 inhibitor.
This was the sixth time that a jury - made up of scientists, trade journalists and industry experts - had convened for the difficult task of choosing the innovative product developments from a wide field of 500 candidates. Yet the FEPORID® 388 inhibitor convinced the jury that it minimizes those invariable acid attacks on the steel base material and, in doing so, protects the surface and even optimizes the acid utilization process.
Economic and environment-friendly Another point in favor of FEPORID® 388 is the fact that the pickling speed as such is not reduced. Even at high pickling temperatures and with sensitive steel, the product results in a similar positive effect. Users of FEPORID® 388 will be particularly impressed with its cost efficiency. On the one hand, because the concentration of one liter of inhibitor to 1000 liters of acid is low; and, on the other hand, because costs in general can be kept down as acid consumption decreases and the otherwise typical loss of weight experienced by steel during pickling works out less.
Last but not least, the deployment of FEPORID® 388 is recommended since it can lead to a reduction of harmful HCL vapors which helps to protect the health of the workers and contributes to a decline in the rate of environment pollution.